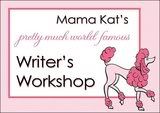 2.) Brea from
Tomika's Treasure Trove
wants your advice: Quick question. I am new to the blogging world, having clocked up less than 2 weeks worth of posts, and I have just had an 'Anonymous' commenter slam me for blogging about my daughter, mentioning her by name, posting photos and up-to-date stories about her. I have not mentioned anywhere in my blog where we live, Country OR State, or what school she goes to. I have also seen, on several other blogs, that other parents do the same thing as me. Some even mention where they live. I was wondering, as a fellow blogger who posts about your family, what are your thoughts on the subject?
I've been thinking alot about this subject for a while now. How to find the right balance in what I post to my blog.
Do I share everything, pictures, anecdotes, family news and other information, or do I keep some things under my hat? I originally started my blog to document our journey from suburbia to farmlife, and I thought I would be posting lots of building pics and information along those lines.
My blog has become much more than that. It is an outlet for me to vent my frustrations, to dream, to relive my day and most of all to document my life. But. I struggle with
HOW MUCH
information to share.
I don't feel comfortable posting photos of my kids and The Hubbster doesn't want to be in my blog either
(he doesn't, however, know about the pic on the RHS - sshhhhh!).
I do write about my family, but the pics are scarce.
I adore seeing my bloggy friends and their families, and I wish I could also be like that. I know my blog is in the public forum, so I do feel that I
should
share more....but I just don't feel it is right for me. And that brings me to a very important point.
Do what is best for you.
Everyone is different, and I respect what other people do regarding their blogs and how much they share. I respect that, and I hope that other people appreciate what I do with my blog and how I style it.
It all comes down to what you think is right for
you.
Only you can decide.