This weeks writers workshop - I've decided on prompt number 2....
2) Describe yourself in five words. Choose one, and write a poem.
1. Mother
2. Tired
3. Stressed
4. Grateful
5. Blessed
The words above are my poem:-
Mother
Tired, stressed
Grateful...blessed.
I'm tired all the time. I have bags under my eyes, kindly pointed out to me by my son as told
here.
I should go to bed earlier but I'm a nightowl and I cannot change...
I feel stressed alot of the time. Most of it is self inflicted because I let things get to me. I have a bad case of motherguilt, especially when I have my period because I turn into an unreasonable crazy witch and I compare myself to others......
There are days when I can't even believe I am a mother and I have 3 children. I look at them and really wonder how on earth they came to me..
I am so grateful to be given this chance, and to have these children to look over.
I feel so blessed that these three little birds call me mama...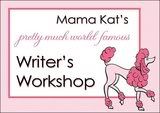 Please vote for me on
Babbles
Top 50 Bloggers...I'm on the home stretch now and I'd really appreciate your vote! I'm on page 1....kisses in advance.....